3 Ways to Cut Garlic + Garlic Butter Recipe
1928 days ago
Skip to recipe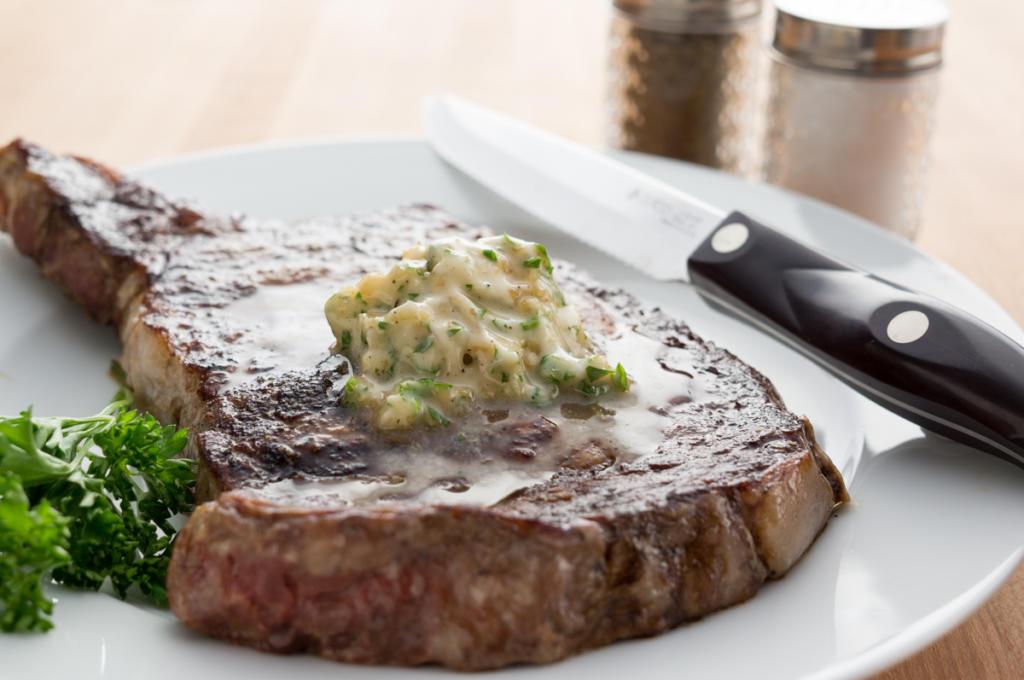 What do you think of when a recipe calls for garlic? Most recipes don't specify what kind of garlic to use. If you're like me, you head out to your local grocery store and pick up a bulb or two, but there are actually a lot of different types of garlic. I learned more about garlic while attending a garlic festival where I saw booth after booth of this beloved ingredient.
Types of Garlic
There were German, Italian, Spanish, Romanian and Killarney varieties to name a few and several kinds within each variety. There were even different colors of garlic from white to pink to purple to black.
The different kinds range in pungency from sweet and mild to rich and meaty and even a little bitter. What we see the most is hardneck garlic which has a lot of flavor compared to its soft-necked cousins. Hardneck garlic usually has between four and twelve cloves in each bulb. Softneck garlic is what we usually see in the grocery store. It has many more cloves than hardneck garlic, sometimes as many as thirty. Softneck garlic is an all-purpose garlic that is good both raw and cooked.
Then there's elephant garlic. This ginormous variety is mild with an oniony edge. In fact, you can mince it and use it in recipes calling for small amounts of garlic and onions.
3 Ways to Cut Garlic
Slicing garlic: Using a Chef knife, trim off the root end of the garlic. Place the unpeeled clove on a cutting board. Smash the garlic with the flat side of the knife. Remove the skin and thinly slice the clove lengthwise.
Mincing garlic: Proceed as above. Once the clove is sliced lengthwise, turn it 90 degrees and thinly slice it crosswise. Rock your chef knife over the garlic to the desired size mince.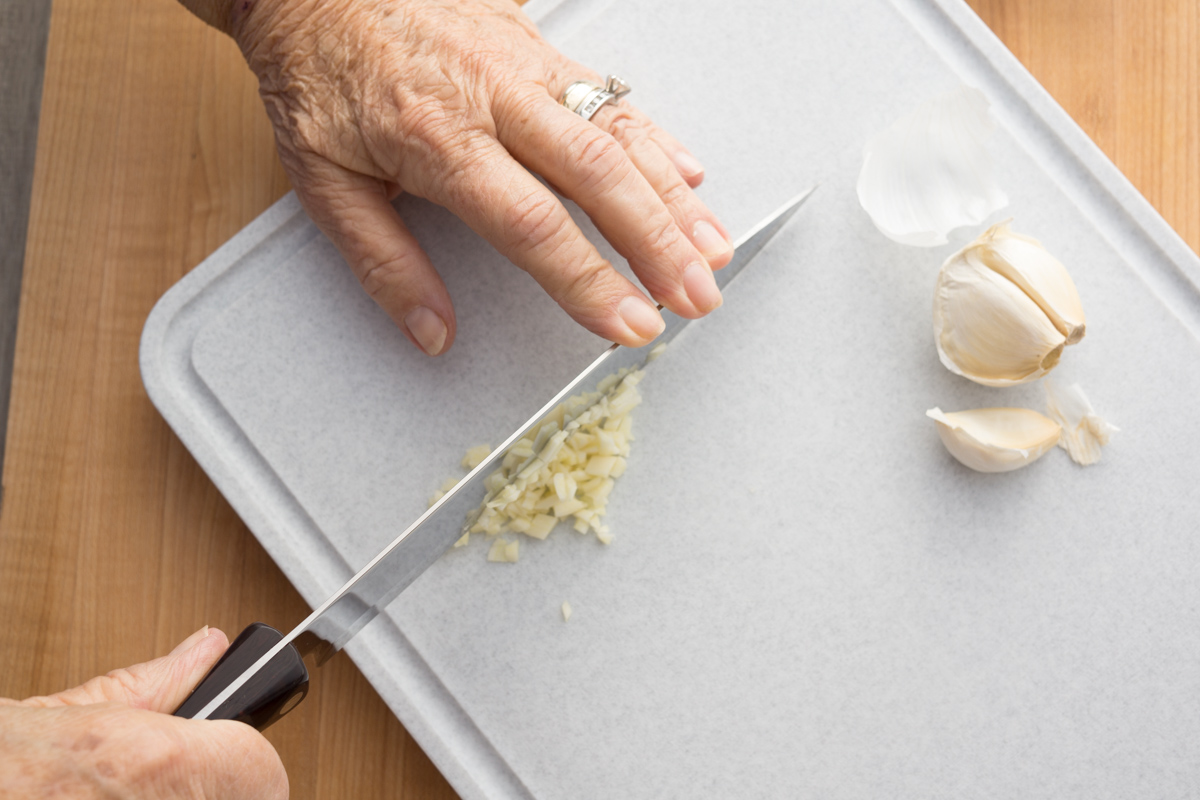 Making garlic paste: Proceed as above until the garlic is finely minced. Sprinkle the garlic with coarse salt, which acts as an abrasive and breaks down the garlic. Hold the spine of the Chef knife and drag the sharp side of the blade across the garlic, holding the blade at a slight angle so it presses and flattens the garlic. Keep dragging the knife across the garlic until it becomes a paste.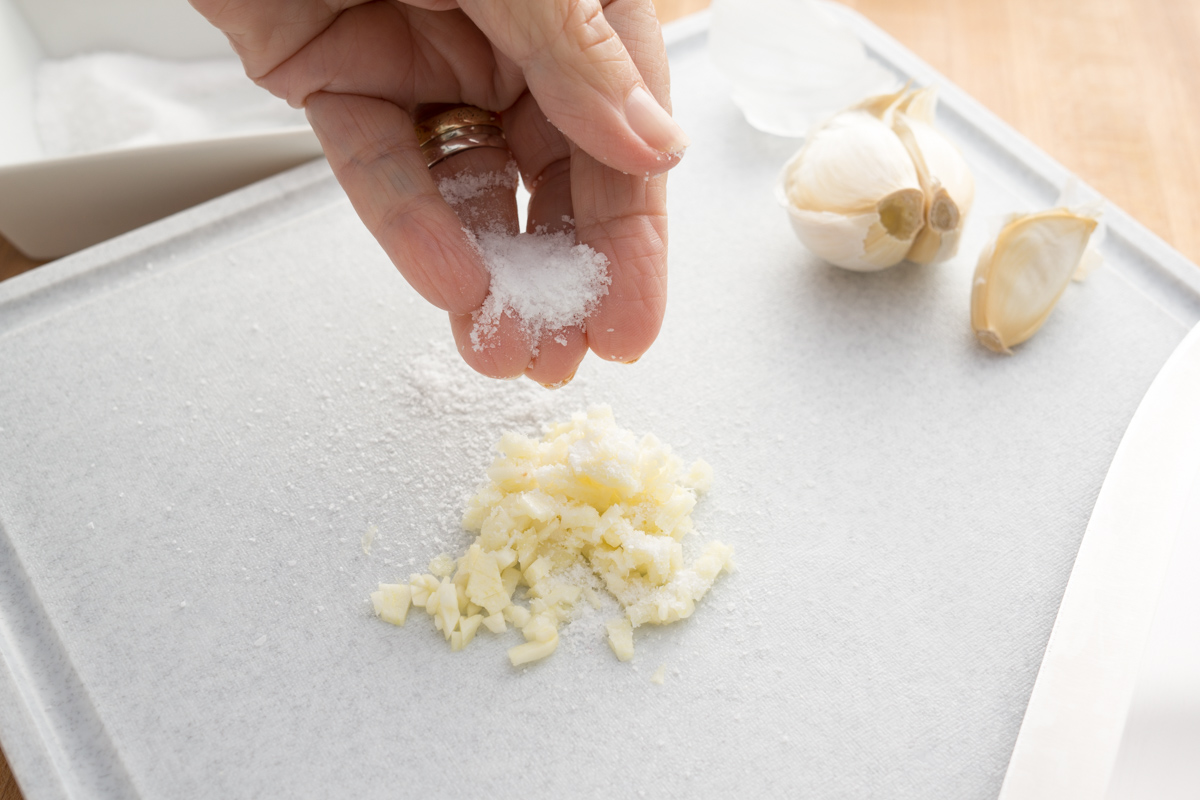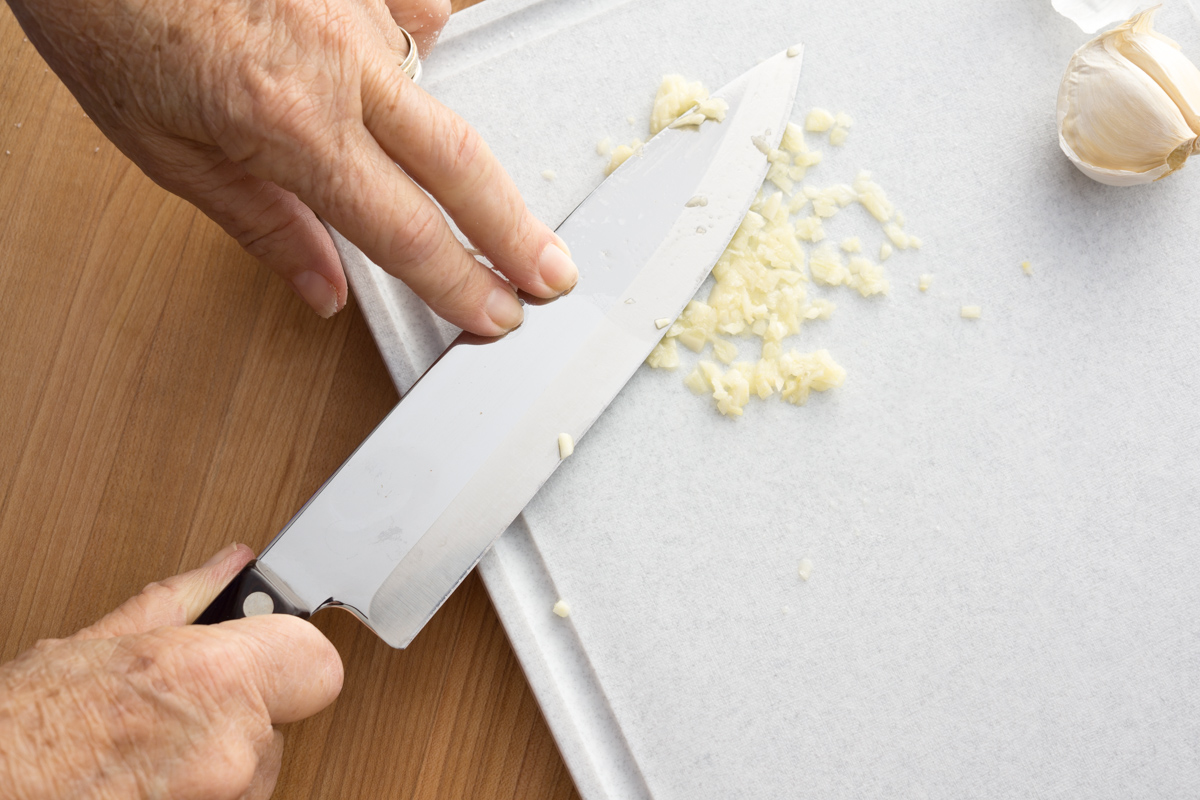 This garlic paste recipe is great for dolloping on vegetables, like green beans.
Place a large dollop on a hot, grilled steak.
Also use it as a baked potato topper.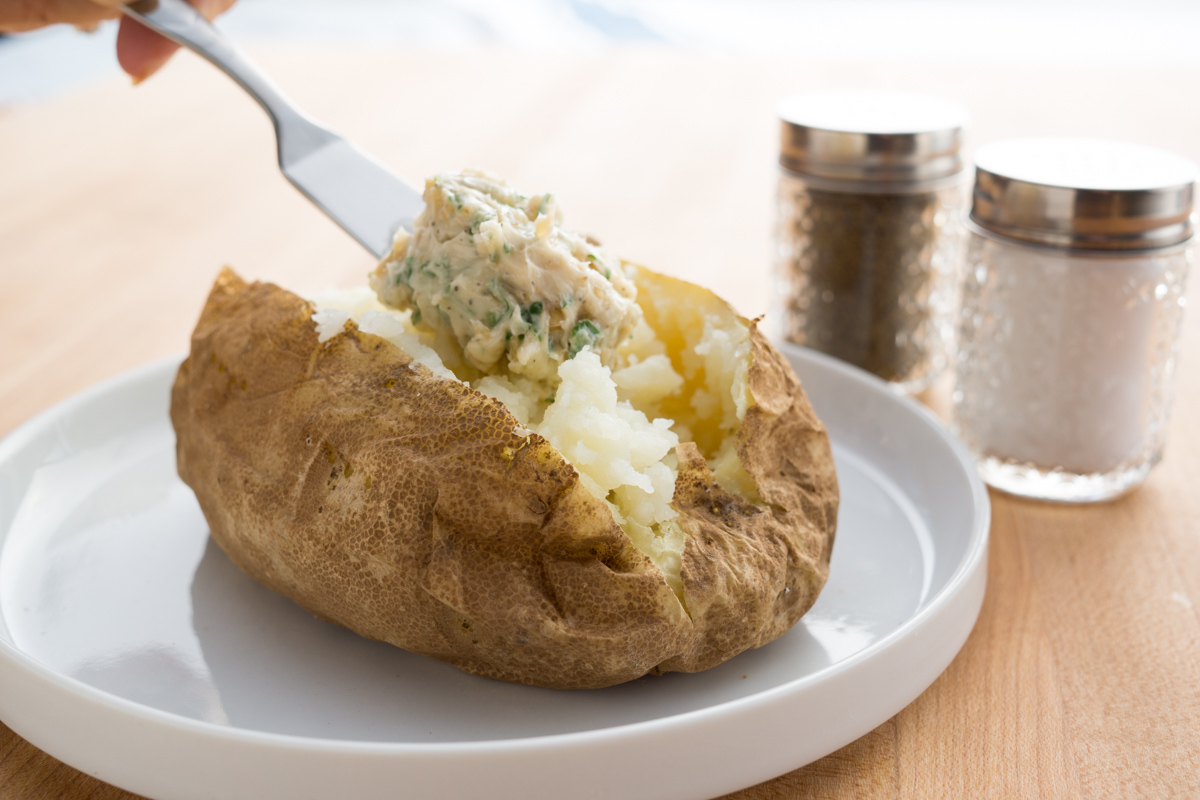 My favorite way to use garlic butter is for garlic bread.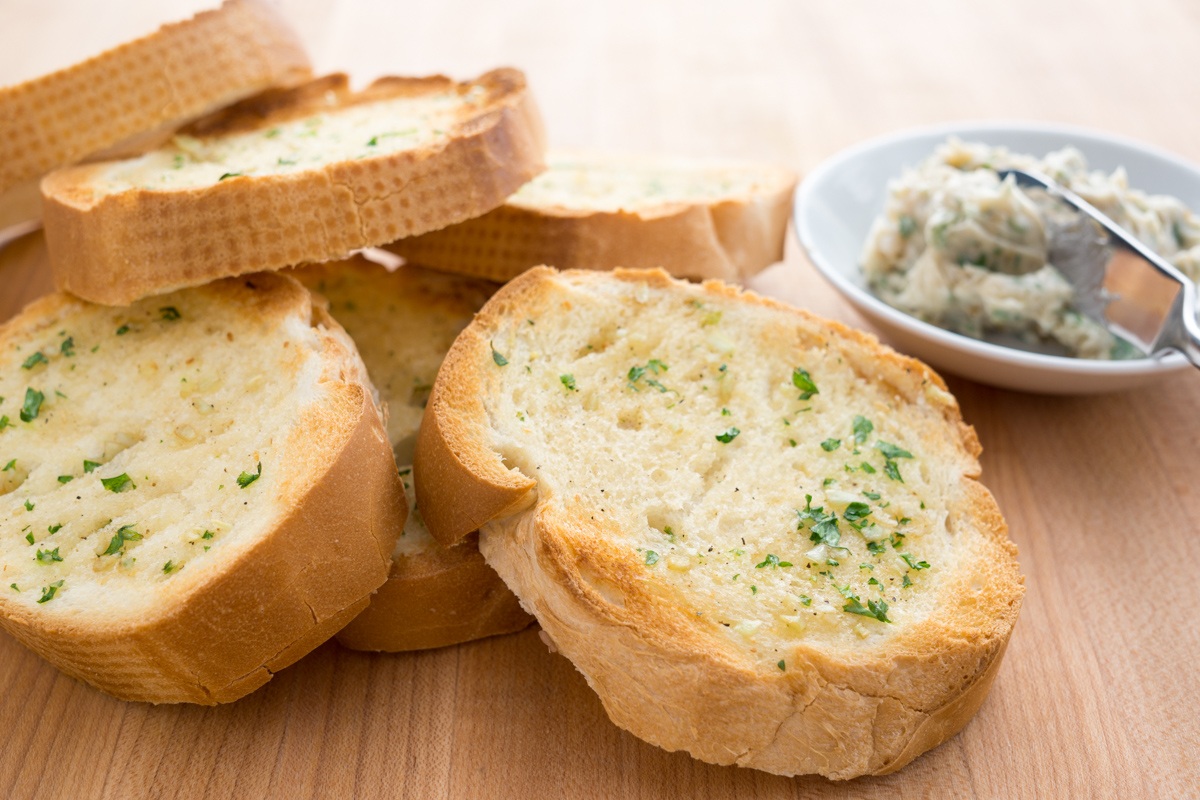 When preparing garlic, remember the finer you cut it, the more potent its flavor. Slicing garlic results in a milder flavor compared to a paste, which will yield a stronger garlic flavor.
Ingredients
1 stick (1/2 cup) unsalted butter
3 gloves of garlic, mashed into a paste
1/2 teaspoon Worcestershire sauce
1/4 teaspoon white or black ground pepper
1/4 teaspoon kosher salt
1 tablespoon chopped fresh parsley
Directions
Place the butter in a bowl and leave at room temperature until it is soft. Add the other ingredients a little at a time and thoroughly mix and taste until it reached the level of garlic intensity you like.

NOTE: We found that adding all the garlic paste made the butter way too garlicky.

Keep refrigerated or freeze.