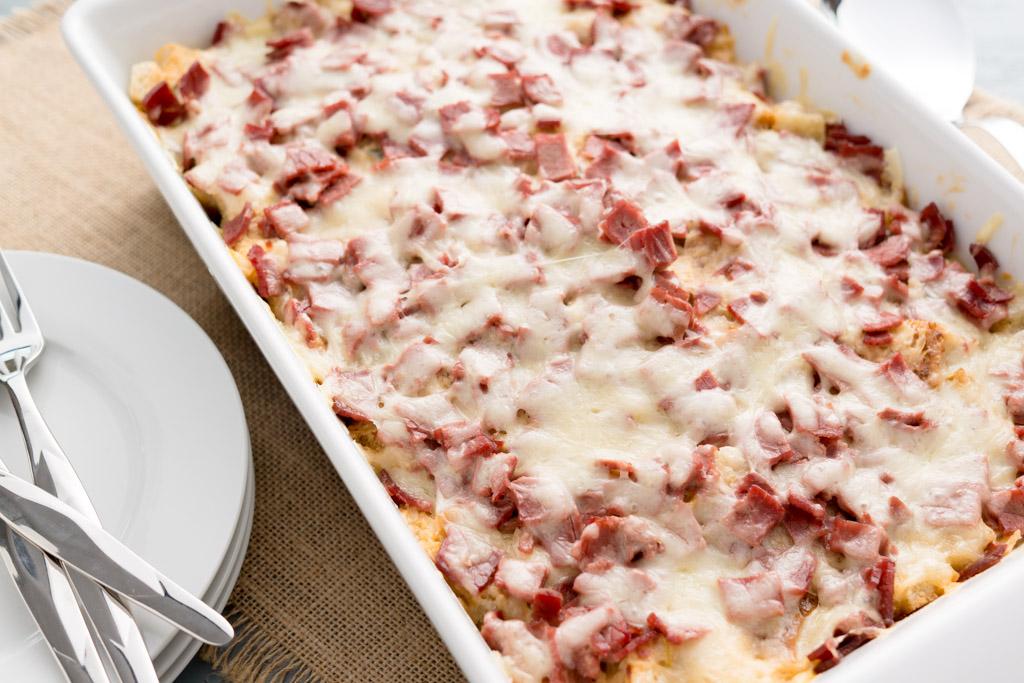 St. Patrick's Day is just around the corner. Here's a casserole to enjoy with the family or to take to an Irish potluck. It combines all the ingredients and goodness of a Reuben sandwich without the fuss of making individual sandwiches. Rye bread cubes are layered with a sauerkraut mix that's topped with corned beef and Swiss cheese. The layers are repeated and the casserole is drizzled with melted butter and baked in the oven.
Use either the 7-3/4" Petite Slicer or 9-3/4" Slicer to easily slice the bread into cubes. The Double-D®-edge cuts through the bread easily without ripping or tearing.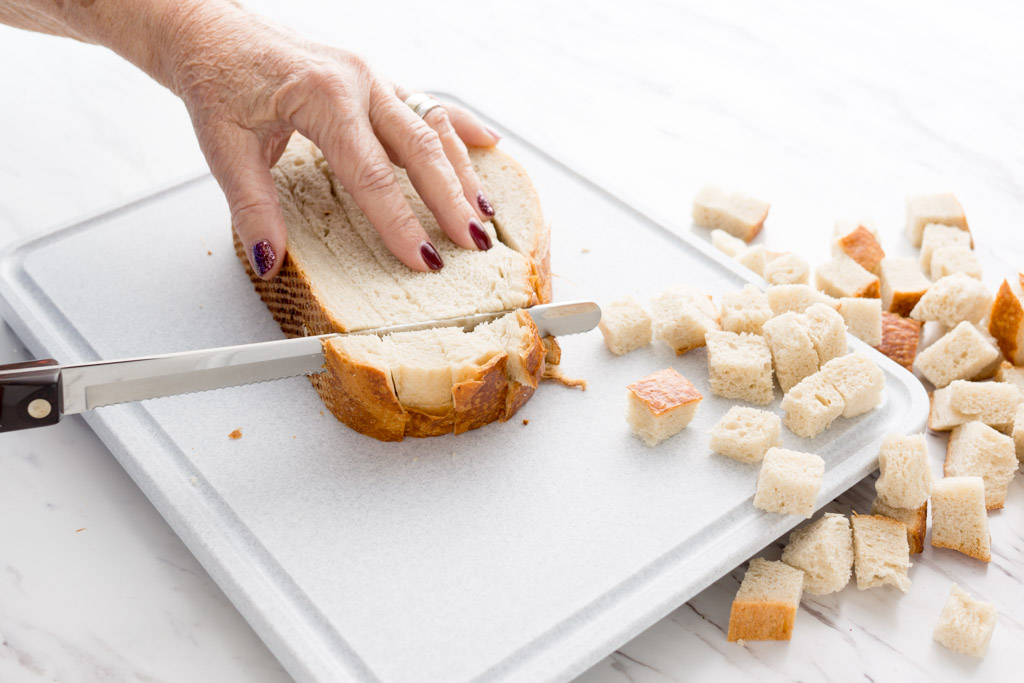 Stack up 2 to 3 slices of the corned beef and use the Trimmer to cut it into pieces. The important thing when choosing a knife is to select the right size knife for what you're cutting.
This casserole received lots of positive comments from everyone who tasted it. One person even ate it cold the next day which doesn't sound good to me but he said it was fine. Someone else prepared it for a post-St. Patrick's Day parade party. This one is definitely a winner.
Originally published March 14, 2017
Ingredients
1 large loaf rye bread cut into cubes (about 8 cups)
1 16-ounce jar sauerkraut
1 cup sour cream
1/2 cup bottled Russian dressing
4 dill pickle slices, finely chopped
2 cups thinly sliced corned beef, chopped ? divided
2 cups Swiss cheese, shredded ? divided
1/2 cup butter, melted
Directions
Preheat oven to 350°F. Spray a 9 x 13 baking dish with non-stick cooking spray.
Put half of the bread cubes in the baking dish.
Combine the sauerkraut, sour cream, Russian dressing and chopped pickles in a large bowl. Pour half of the mix over the bread.
Top with 1 cup corned beef. Sprinkle with 1 cup Swiss cheese.
Put the remaining bread cubes on top, pushing down so they adhere to the sauce mixture. Top with remaining sauerkraut, sour cream, dressing mixture. Sprinkle with remaining corned beef and cheese. Drizzle with the melted butter.
Cover the dish with foil and bake for 30 - 40 minutes. Remove foil and bake 10 more minutes or until the top is lightly browned.
Serve hot.
Recommended Tools