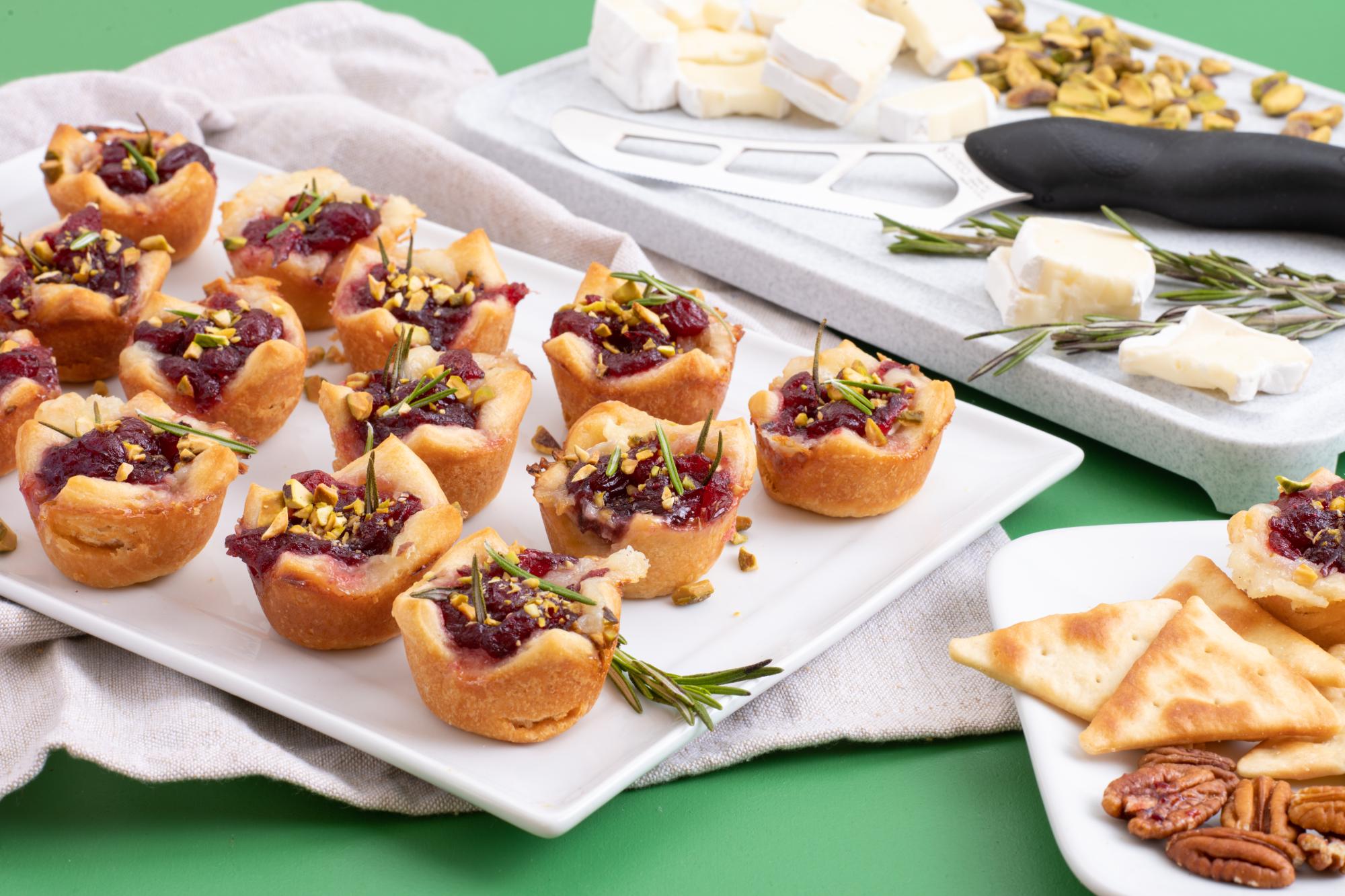 Bite-size appetizers that are a grab-and-go option are my ideal party dish. I prefer things that are not complicated, look pretty, are easy to make and, yes, tasty. That's not asking too much, is it? My other requirement is that there isn't a long list of ingredients and I can find them easily in the store.
There are recipes I have that fulfill all my preferred requirements and this Cranberry, Brie and Pistachio Bites appetizer is one of my go-to dishes. Easy to make, but perhaps more importantly, this little bite is delicious. The creaminess of the brie paired with the tartness of the cranberry sauce and the crunch and saltiness of pistachios will find you going back for more. This is one of those appetizers that disappears quickly.
One quick tip for this recipe is to buy the refrigerated crescent dough sheets. You should find them right next to the crescent roll tubes. The difference is, one tube is an entire sheet of crescent dough, so you don't have to take the time sealing the seams of the individual crescent rolls.
Prepping the Ingredients
Place the crescent dough sheet on a floured cutting board and roll out slightly so it's a perfect rectangle. Using a Pizza Cutter, cut the dough into 24 even squares and place them into a mini muffin tin that has been sprayed with cooking spray.
Take the brie wheel and, using a Cheese Knife, cut the wheel into 24 small pieces. They don't need to be perfect squares, but they should be about the same size.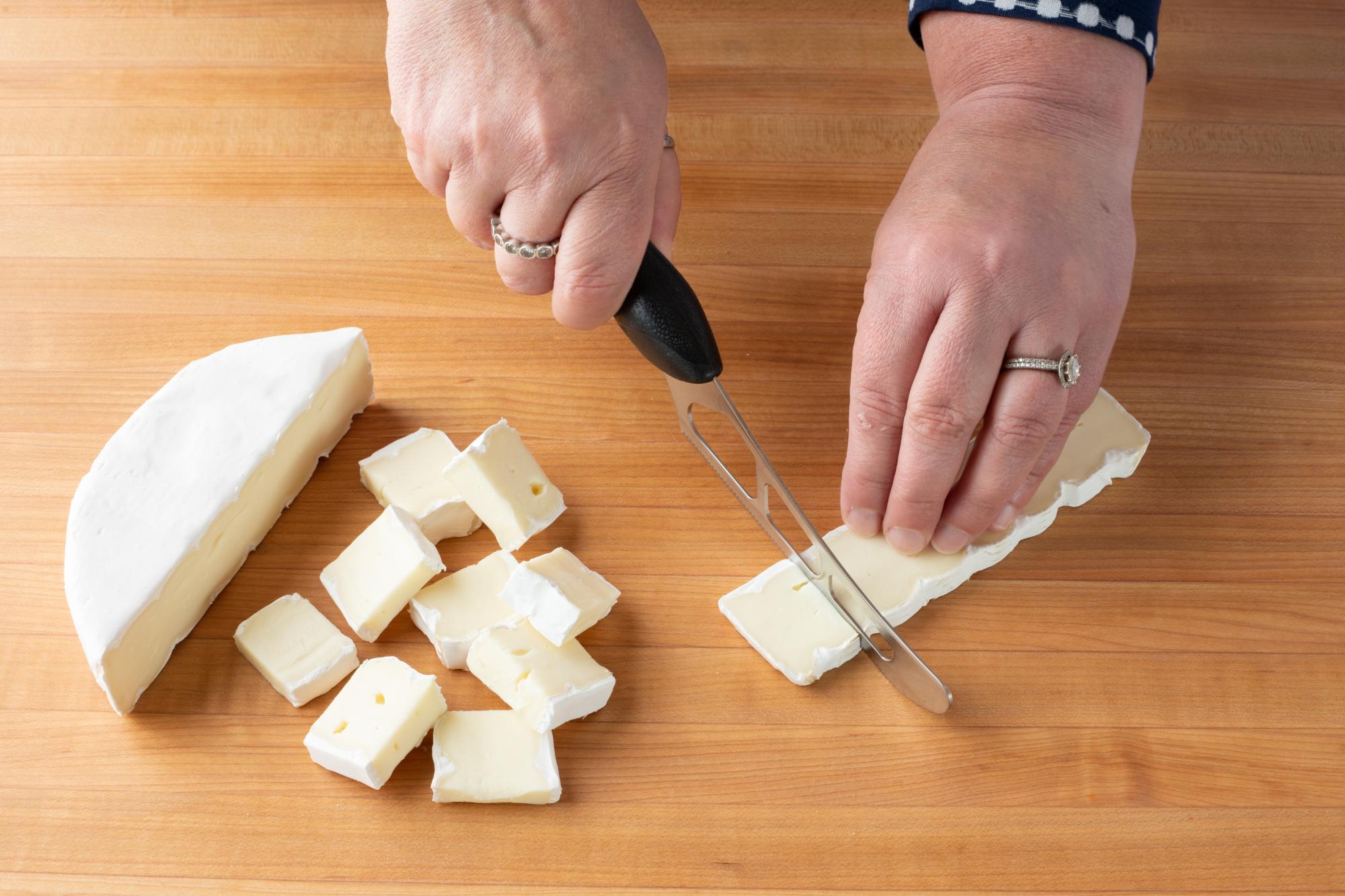 Using a 7-5/8" Petite Chef knife, finely chop the pistachios.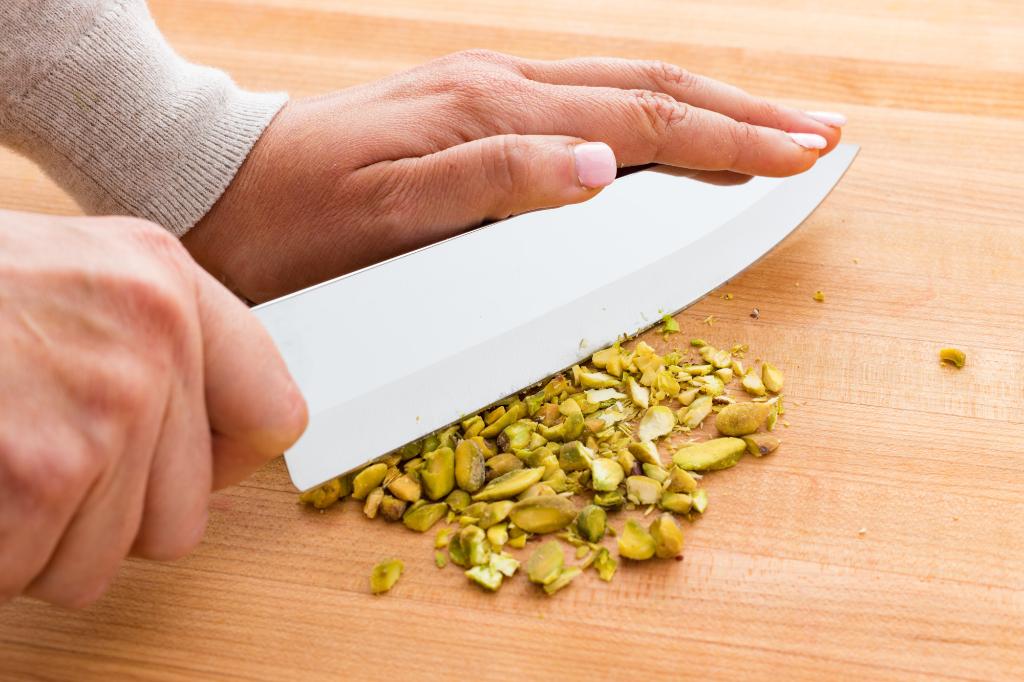 Finishing the Appetizer
Place the brie pieces into your dough squares and top each with a generous spoonful of the whole berry cranberry sauce. I do try to ensure that every bite has an actual cranberry but that depends on how many cranberries are in the sauce. Just make sure to be generous with the cranberry sauce. Top with the chopped pistachios and place a sprig or two of rosemary into each bite. Bake for approximately 15 minutes, until the crescent dough puffs up and turns golden brown. Don't worry if the cheese overflows onto the pan. That will just make it tastier.
Remove the cranberry bites from the pan – they should come out easily – and place them onto a serving platter. You can serve these appetizers bites warm (when the cheese is nice and gooey) but also at room temperature.
Cranberry, Brie and Pistachio Bites are the bite-size appetizer perfect for entertaining your guests or your family. They're so easy to make that you really can have them any time. Easy preparation and fabulous flavor make these a great option for your next gathering.
Ingredients
1 crescent dough sheet
8 ounces brie cheese
1 cup whole berry cranberry sauce
1/2 cup pistachios, finely chopped
Fresh rosemary sprigs removed from stem
Cooking spray, for pan
Flour, for surface
Directions
Heat oven to 375 F and spray a mini muffin tin with cooking spray.
Place the crescent dough sheet on lightly floured cutting board. Using a Pizza Cutter,cut the dough into 24 squares. Place the dough into muffin tin slots.
Cut brie cheese into 24 small pieces and place one piece inside each crescent dough square. Top each square with a generous spoonful of cranberry sauce, chopped pistachios and a sprig of rosemary.
Bake for 15 minutes, or until the crescent pastry is a light golden brown.
Place the bites on a serving plate and serve warm.
Recommended Tools