Cold Cucumber Soup With Lime, Jalapeño and Greek Yogurt
873 days ago
Skip to recipe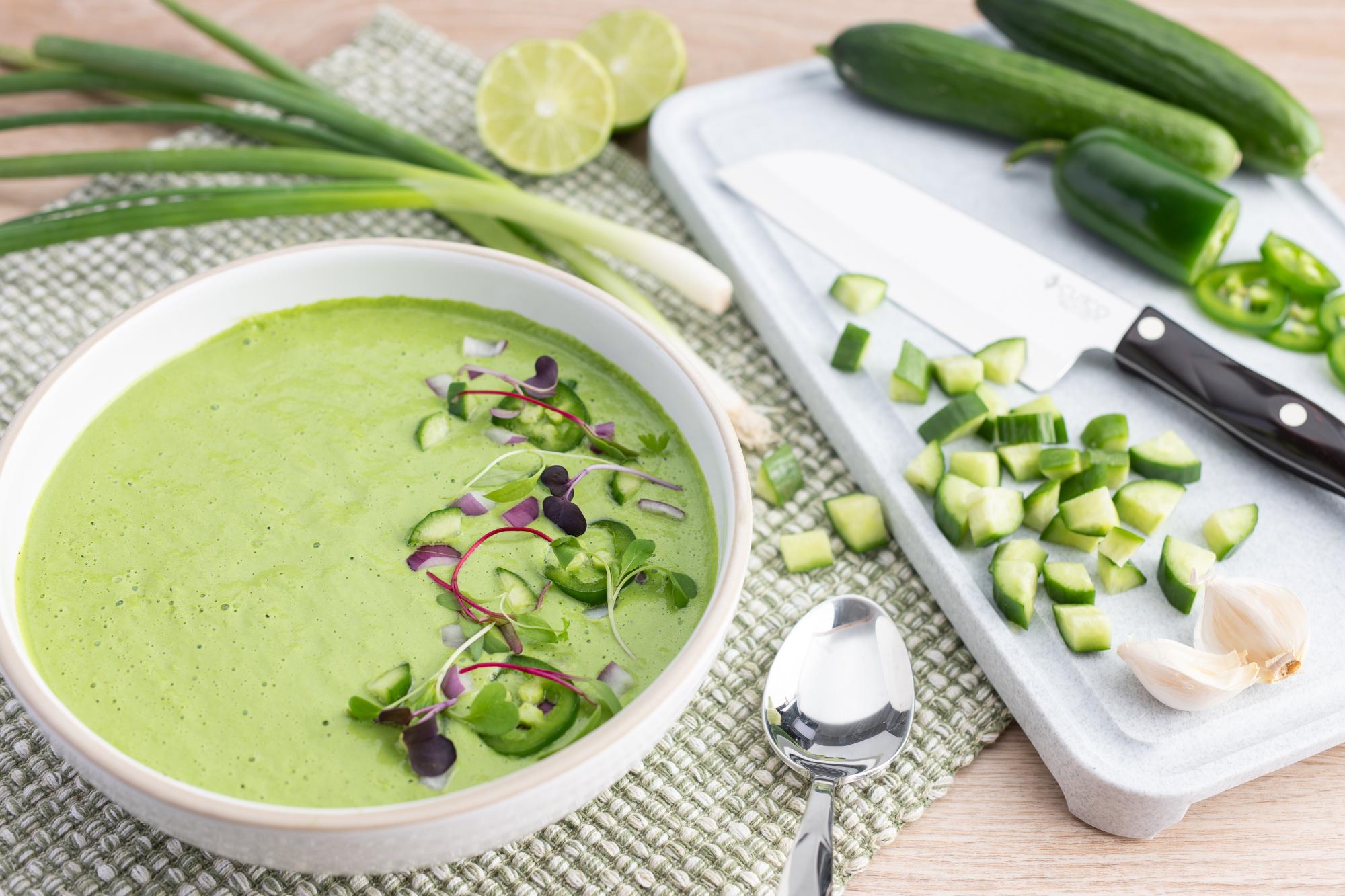 Cucumbers are a hotly debated topic in my household, because I love them and my husband does not. We could go out for dinner and if the house salad is served with cucumbers, there is a trade that takes place whereby I get his cucumbers and he takes my tomatoes (I like tomatoes but he can't have a salad with only lettuce). So, mentioning the possibility of a cucumber soup – well you can only imagine the conversation.
That said, this Cold Cucumber Soup with Lime, Jalapeño and Greek Yogurt adds some additional ingredients that balance the cucumber flavor and makes for a very tasty cold soup. You'll notice that we mention using Persian cucumbers and I highly recommend going with that option or, if you can't find them, an English cucumber will be fine. Persian cucumbers are smaller, with thin skin (perfect for a soup) and are nearly seedless. They have a mild and sweet flavor and tend to be a bit crisper than regular cucumbers.
This cucumber soup is super easy to make, and I do really mean super easy. Once you have prepped the vegetables, everything goes into a blender and is then poured into serving dishes and topped with additional vegetables for decoration. No cooking at all. That's really all there is to it.
Prepping the Vegetables
The recipe calls for one-third of a jalapeño and that may seem very specific but don't be lulled into thinking that an entire one will be fine. Cucumbers have a delicate flavor and too much jalapeño will overpower the dish. Begin by slicing the jalapeño in half, using a 3" Gourmet Paring Knife, taking care to remove the seeds and white pith. I recommend using gloves as a precaution, so you don't transfer the hot pepper compound from your fingers to other ingredients, or worse, to your eyes. Then slice the half pepper, reserving the extra for decoration to top the soup. You can also cut a whole jalapeño into round slices and use that for decoration.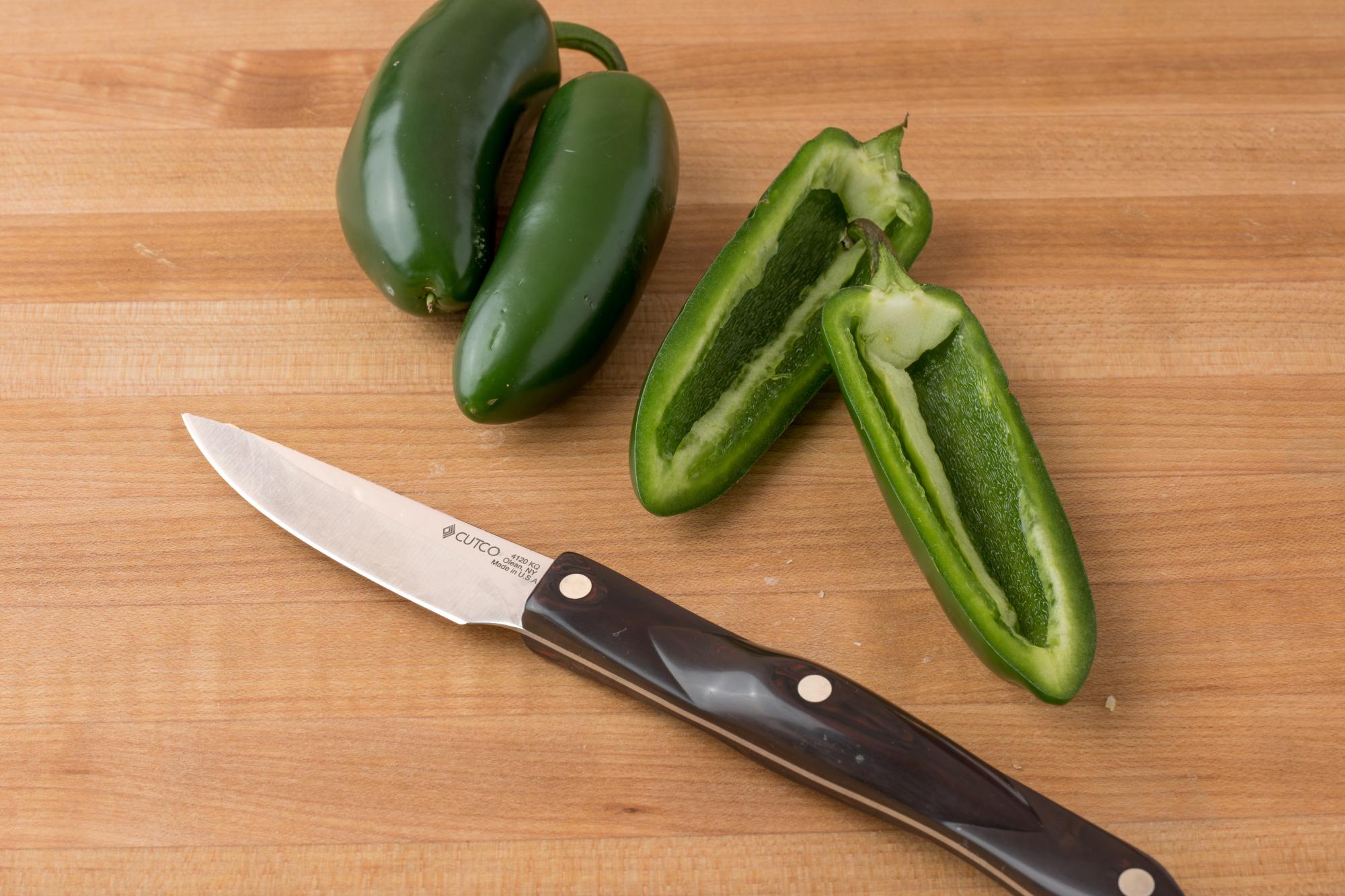 To dice the cucumber, I used the 5" Petite Santoku knife. Because Persian cucumbers have a thin skin, there is no need to peel the cucumber. If you're using a larger cucumber, you can also use the 7" Santoku.
Our How to Dice a Cucumber tutorial will walk you through the steps of dicing a cucumber if you need some additional instruction.
Making the Cold Cucumber Soup
Once everything is prepped, place the first 12 ingredients into the blender and blend into a smooth soup. Check if you need additional seasoning as now is the perfect time to add something and blend again. Once the taste is where you want it, pour the soup into your serving bowls and top with some Greek yogurt, red onion, additional cucumber, jalapeño slices, dill and microgreens. Choose your toppings to your preference.
I have to say this was one of the prettiest soups we have ever prepared in the Cutco kitchen. Cold Cucumber Soup with Lime, Jalapeño and Greek Yogurt was a beautiful spring green color but the taste – now that was something to rave about. Crisp, clean and not overly cucumber. I actually sat down for lunch and had a bowl of this with some crusty bread. Yum! Give it a try and you just may find something that makes you love cucumbers. I'm still working on my husband.
Ingredients
For the soup:
1/3 of a jalapeño, sliced
1 green onion, diced
1 small garlic clove
4 Persian cucumbers, diced
2 cups baby spinach
1/4 cup dill
1 lime, zested and juiced
1 cup plain Greek yogurt
3/4 teaspoon salt
1/4 teaspoon black pepper
1 teaspoon cumin
1 tablespoon olive oil
For the add-ins:
1/2 cup Greek yogurt
1/2 red onion, finely chopped
1 Persian cucumber, diced
Jalapeño slices
Dill
Microgreens
Directions
Place the first 12 ingredients into a blender and blend until completely smooth. Check the taste and add additional seasoning if necessary. Refrigerate until ready to serve.
Pour the cold soup into four serving dishes. Swirl the Greek yogurt into the soup. Sprinkle with red onion, diced cucumber, jalapeño slices, dill and microgreens. Serve.
Recommended Tools