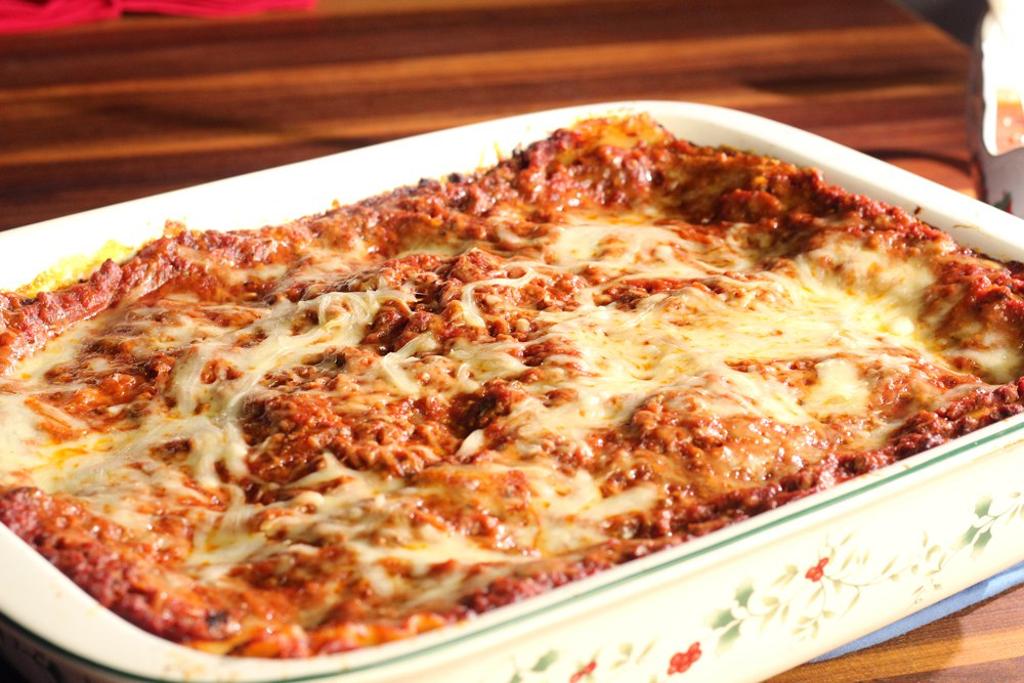 Every family has traditions and ours is to have lasagna for Christmas Eve dinner. The nice thing about lasagna is that you have a couple of options for its preparation. You can make the sauce ahead of time, freeze it, thaw it out when you need it and proceed with making the lasagna. You can also make the sauce, prepare it and freeze the entire pan and bake it on the day of serving.
This Christmas Eve Lasagna uses my mother's recipe for sugo, which is Italian for tomato sauce. I prefer homemade, but certainly you could use your favorite jar of tomato sauce if you would like.
It is also important to note that my family doesn't care for ricotta cheese, so my recipe for lasagna does not include it. But, feel free to add that in if you would like.
Making the Lasagna
My mother, Kay, taught me and my sister-in-law how to make sauce. We watched and learned. There's never been a printed recipe. It was always, you need ground beef, onions, garlic, spices, etc.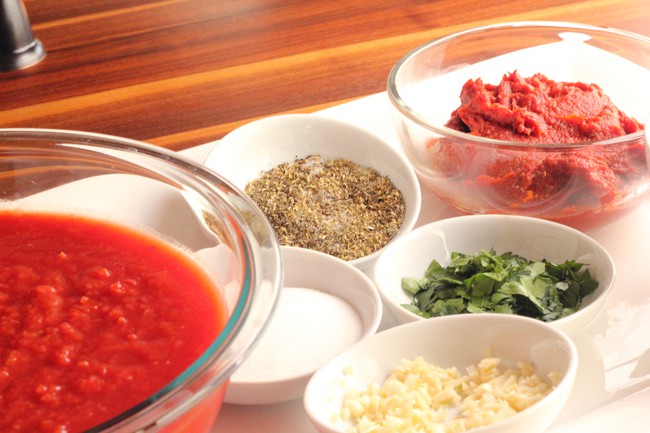 Much of the prep work can be done with a Petite Chef knife. This includes mincing the onions and garlic.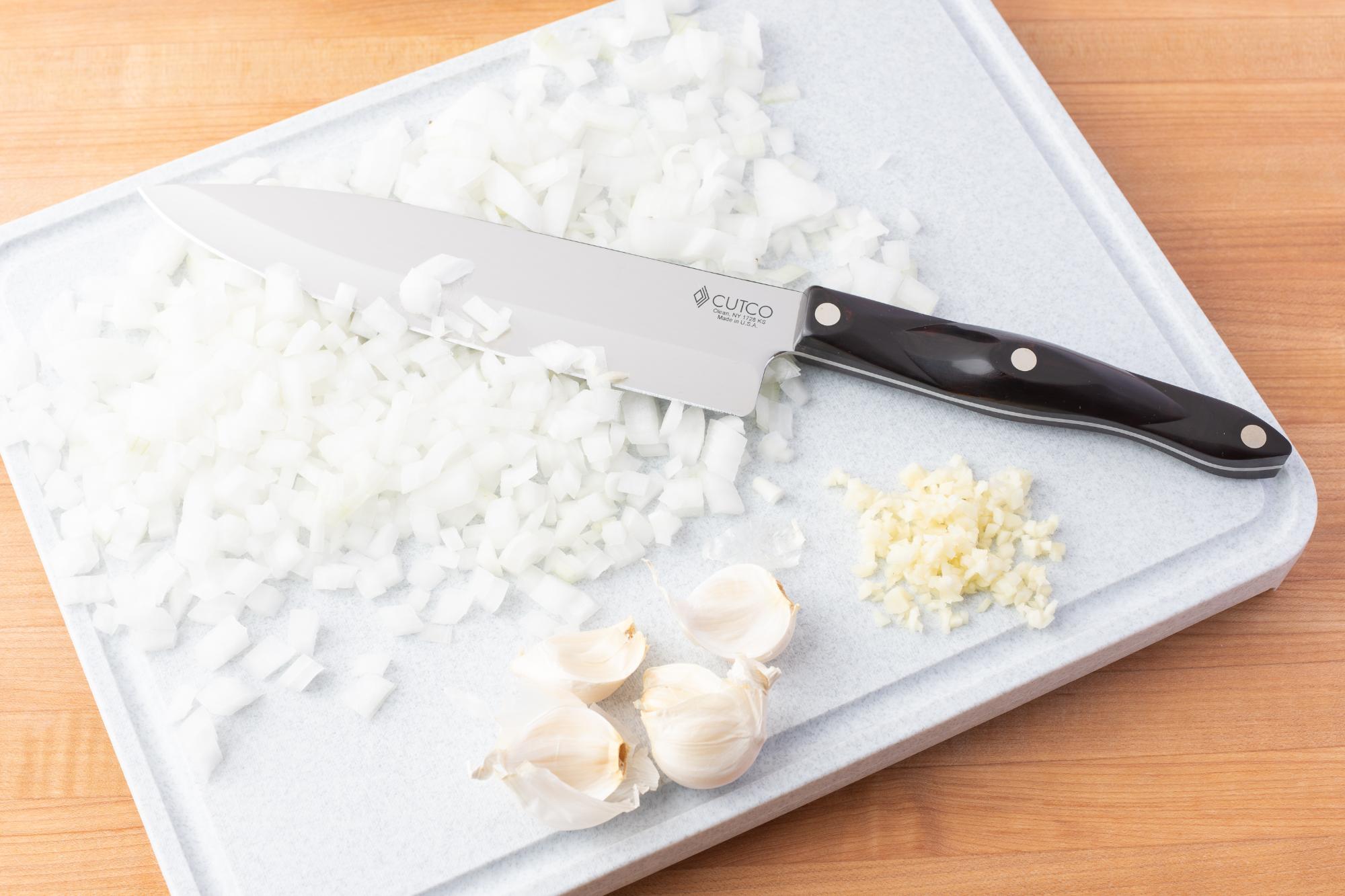 You add, you taste, you tweak. That's the beauty of cooking almost anything. Tasting along the way helps perfect the flavors.
I recently spent the better part of a Sunday afternoon measuring, making notes and tasting. So included in this Christmas Eve Lasagna recipe is what I proudly call Kay's Sugo. Use if for this lasagna or anytime you need tomato sauce in a recipe. I guarantee that once you make my mom's sauce, you'll be making it over and over again.
The recipe for the Kay's Sugo is also available as its own recipe in Cutco's Learning Center if you would like to save it to pull out later.
If you are going to freeze the pan of lasagna, cover it with plastic wrap then cover with foil. Be sure to take it out of the freezer early enough so it can thaw completely before you bake it and make sure to remove the plastic wrap before baking.
A great tool for serving lasagna is Cutco's Spatula Spreader. Its sharp edge can cut evenly through the noodle layers and then its flexible blade can slide under the pieces to lift them out.
I hope you'll try it. From our Cutco family to yours – happy holidays!
Ingredients
For Kay's Sugo (tomato sauce)
1 tablespoon extra virgin olive oil
2 pounds ground beef
1 cup minced onion
4 garlic cloves, minced
2 28-ounce cans crushed tomatoes
2 6-ounce cans tomato paste
3 teaspoon dried basil
1 1/2 teaspoon dried oregano
1 1/2 teaspoon salt
1/2 teaspoon ground black pepper
1/4 cup sugar (use less if you prefer your sauce less sweet)
3 tablespoons chopped fresh parsley
1 cup water
For the lasagna
20 lasagna noodles (from a 1 pound box)
Sauce (recipe above)
4 cups shredded mozzarella cheese
2 cups shredded Romano cheese
2 1/2 cups Parmesan cheese
Directions
Make the sugo (tomato sauce):
Heat the oil in a large sauce pan. Add the ground beef, onion and garlic and cook until well-browned. Stir in crushed tomatoes, tomato paste, basil, oregano, salt, pepper, sugar and parsley. Simmer, covered for 1 ½ to 2 hours, stirring occasionally. If the sauce gets too thick add a little more water.
Make the lasagna:
Bring a large pot of lightly salted water to a boil. Boil noodles for 8-10 minutes. Drain and rinse with cold water.
Heat oven to 375 F.
Using a Basting Spoon, spread 1 1/2 cups of sauce in the bottom of a 13-by-9-inch baking dish. Arrange 5 noodles lengthwise over the sauce. Top with 1 cup mozzarella, 1/2 cup Romano and 1/2 cup Parmesan. Spread 1 1/2 cups of sauce over cheese. Repeat layers 3 more times ending with 1/2 cup Parmesan.
Cover with foil and bake for 45 minutes. Remove foil and bake for an additional 15 minutes. Cool about 15 minutes before cutting.
Recommended Tools