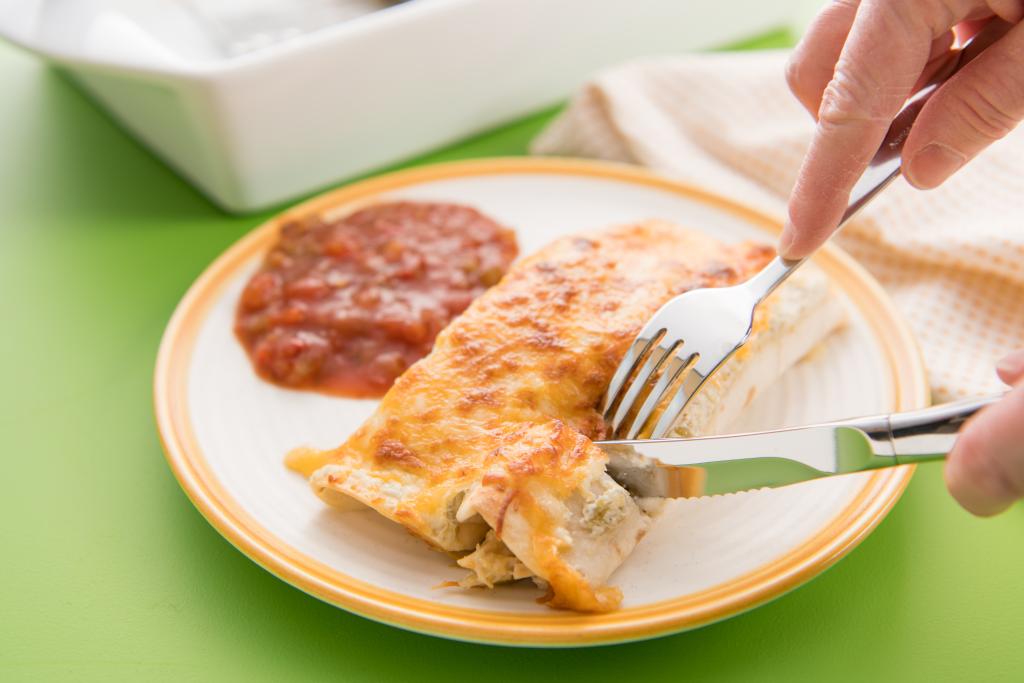 After a day of working, dropping off and picking up kids, and squeezing in some errands it's tempting to herd everyone into the car and head to the nearest restaurant for dinner. In the time it takes to drive there, order and wait for your meal, you can make this Mexican-inspired Chicken Enchilada Casserole.
To shorten the prep time even more, cook and shred the chicken breasts the night before or use a rotisserie chicken. If you can't find tomatillo salsa, use salsa verde. The taste is very similar as they both contain tomatillos which are little green tomatoes that are not quite as sweet as red tomatoes.
The salsa/sour cream mixture for this recipe does double duty. It's part of the enchilada filling and is also used as a topping for the casserole.
The filling includes cooked onions, garlic, chicken, the salsa/sour cream mixture, chiles and cheese. For the prep work, I used the 5" Petite Santoku to quickly chop and mince the onions and garlic.
This was a winner among everyone who tried it. Quick, easy and tasty; all the things we look for when feeding our families.
Ingredients
1 cup sour cream
1 cup tomatillo salsa or salsa verde
2 teaspoons oil
1 small onion, chopped
2 cloves garlic, minced
3 cups shredded cooked chicken breasts
1 4-ounce can chopped green chilies, drained
1 1/2 cups Mexican style shredded four cheese blend, divided
8 6-inch flour tortillas
Non-stick cooking spray
Directions
Heat oven to 350ºF.
Mix sour cream and tomatillo salsa or salsa verde until blended. Set aside
In a large skillet, cook and stir onions and garlic in hot oil 4-5 minutes or until crisp tender. Stir in shredded chicken, 1 cup of the sour cream mixture, chilies and 1/2 cup cheese.
Spoon about 1/3 cup of the chicken mixture down the center of each tortilla and roll up. Place, seam side down, in a 13 x 9 baking dish sprayed with non-stick cooking spray. Top with remaining sour cream mixture and sprinkle with remaining cheese.
Cover with foil and bake 15-20 minutes. Remove foil and place under broiler until cheese is lightly browned.
Recommended Tools