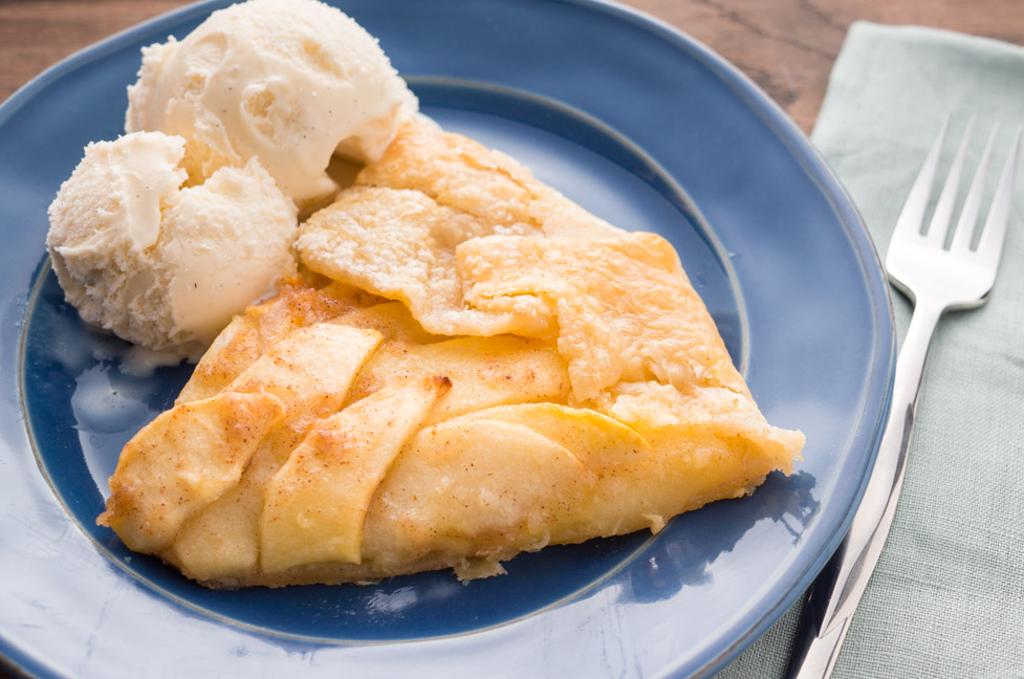 What is a galette you ask? It's really not as fancy as the name implies. It's just a buttery pie dough shell filled with a sweet or savory filling. The beauty of it is it's so much easier to make than a traditional pie.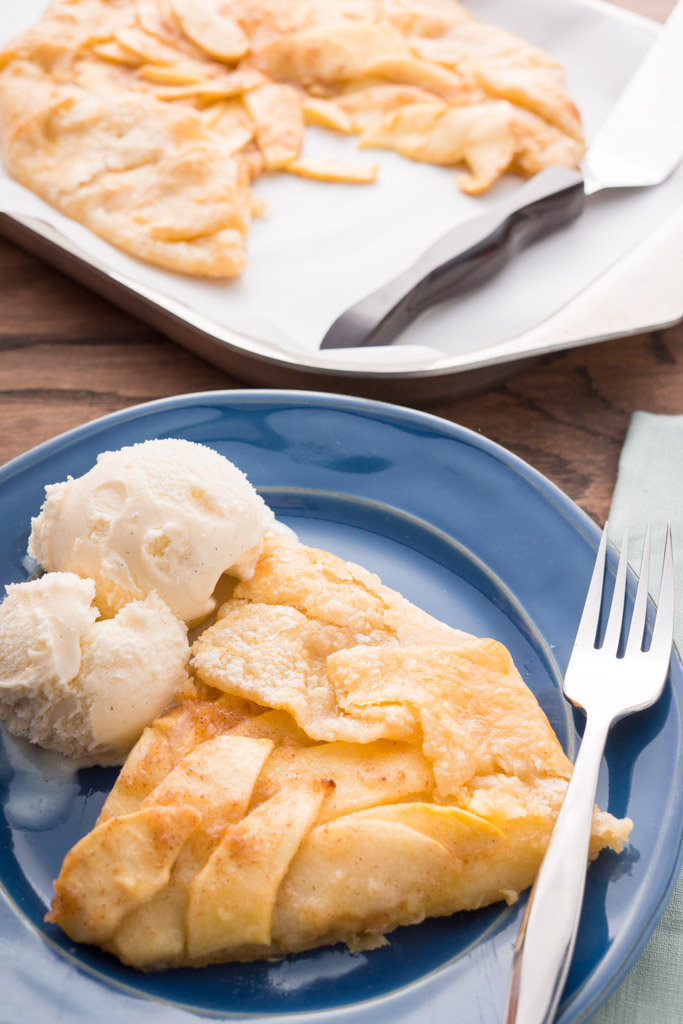 I know I've mentioned before that I'm not the greatest pie dough maker. I have a tendency to handle the dough way too much resulting in a tough crust rather than one that is flaky and light.
It's important when making dough to keep the butter cold. So instead of using your warm hands to incorporate the butter, use two Table Knives in a scissor motion to cut the butter into the dry ingredients to the size of small peas.
This recipe makes two galettes. You can wrap the unused dough in plastic and freeze to use later. Defrost it in the refrigerator the day before using it.
As for the filling, any fruit or combination of fruits can be used. I liked using apples because who doesn't like apple pie? Large fruits can be sliced or cut into chunks while small fruits like blueberries or raspberries should be left whole. You can also add nuts or dried fruits. Be sure to add spices like cinnamon, cloves and nutmeg, or zests like orange or lemon to add more flavors to the filling.
Savory galettes are delicious too. However, the dough used for the fruit galette would not work well with savory ingredients. It is too sweet. Look for a dough recipe made without sugar. Fill the dough with sautéed vegetables or greens and cheese.
Galettes are a great way to experiment with a variety of fillings and to create a dish that can be a main course or dessert.
Ingredients
Dough
2 1/2 cups all-purpose flour
2 tablespoons sugar
1/2 teaspoon salt
2 sticks (16 tablespoons) unsalted butter, cut into 1/2 inch pieces and chilled
2/3 cup ice water
Filling
1/4 cup flour
1/4 cup granulated sugar
1/4 teaspoon kosher salt
1/4 teaspoon ground cinnamon
1/8 teaspoon ground allspice
4 tablespoons cold, unsalted butter, diced
1/4 teaspoon orange zest
3 large apples (McIntosh, Empire, Granny Smith, Golden Delicious, Fuji, Galas)
1 egg, lightly beaten
Additional sugar for sprinkling
Directions
To make the dough: Mix flour, sugar and salt in a large bowl. Cut in the chilled butter using 2 Table Knives until the butter is evenly distributed but you can still see pieces of the butter.
Add the ice water all at once. Using your hands, mix the dough just until it begins to come together.
Turn the dough out on a floured board and shape it into two disks. Wrap each in plastic wrap and refrigerate for at least an hour.
To make the dish: Preheat oven to 400°F. Mix the flour, sugar, salt, cinnamon and allspice together in a small bowl. Add the butter, mashing with a fork until the mixture is crumbly. Add the orange zest.
Peel, core and slice the apples. In a large bowl, toss the apples with the flour, spice and orange zest mixture.
On a lightly floured surface and using a floured rolling pin, roll one pastry disk into an 11 inch circle. Suggestion: the pastry can also be rolled out on parchment paper. If rolled on parchment, transfer paper with the rolled out dough to the baking sheet and proceed with the rest of the recipe.
Spoon apple mix onto the pastry, leaving a 1 1/2 inch border. Gently fold the border over the apples, pleating to make a circle. Brush with the beaten egg and sprinkle with sugar.
Bake for 30 – 40 minutes, until the crust is golden and the apples are tender. Allow to cool. Serve warm or at room temperature.
Recommended Tools