Knife Sharpening & Repair
We're reopening our sharpening and repair service department after five months and expect it will take significant time to service and ship your Cutco - anticipated timeframe is two to four weeks. We suggest that if you can't be without your knives for up to a month, you may want to reconsider sending in your knives until we have the opportunity to catch up. Thank you for continued patience.
Request Service
Frequently Asked Questions
How much does sharpening cost?
Sharpening your knives is free. If you choose to send your knives for factory sharpening, there is a return shipping fee to ship items back to you.
| Quantity of items sent | Return shipping fee |
| --- | --- |
| 1–5 products | $9 |
| 6–10 products | $11 |
| 11–25 products | $13 |
| 26–40 products | $16 |
There is a limit of 40 products per service order.
How long does sharpening or repair take?
As our knife sharpening and repair service reopens, it will take some extra time to service and ship your Cutco. Once we receive your knives in Olean, NY, the anticipated timeframe is two to four weeks, so your continued patience is much appreciated.
How do I package my knives to return?
For the safety of everyone who will handle your shipment, please package your knives carefully. Tape can leave a residue that is unsafe for our team to remove. Due to this safety hazard, knives received with tape on the blade will be returned with residue still on the blade.
Please make sure to clean your knives thoroughly before returning them for sharpening or service.
Do not use tape directly on the blades and handles.
Cover the entire blade with cardboard. Cardboard from cereal boxes works well.
Do not use padded envelopes.
Place your knives in a cardboard box with extra packing material to keep them secure during shipping.
Loading video ...
Can my vintage products be sharpened or repaired?
If you have vintage products, in most cases we can still service them. If we can't, we'll replace them. If you don't want your vintage products replaced, you can choose to have the original items returned to you when you request service.
How often should I send my knives to be sharpened?
With proper use and care, the edge on your straight-edge and Double-D®-edge knives should last years. When you notice they aren't performing as you expect, send them for free sharpening and we'll get them like new.
Sharpen your knives in-home
Repair Service
Under the Forever Guarantee when a product needs repaired, we'll do everything we can to make it right, or replace it.
Online Account Sign In
Note: Customers who receive promotional email do not automatically have an online account.
Create Online Account
Shop faster and easier by saving addresses in a secure online account. Plus, access online order history.
Create Account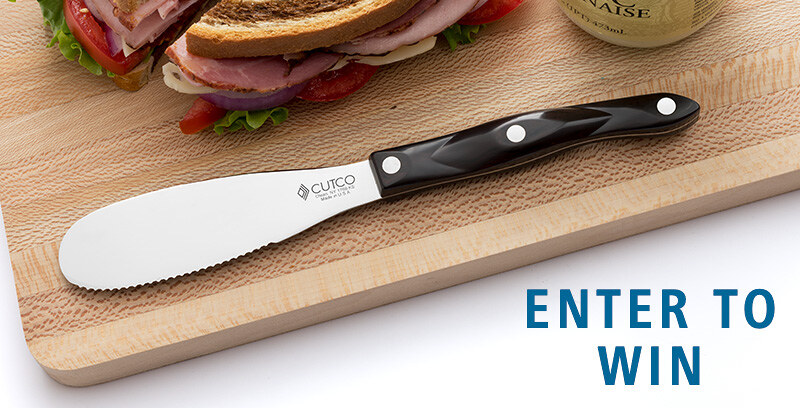 Enter to Win a Spatula Spreader
We're spreading the love this month by giving away a Spatula Spreader. It's a knife and so much more. Mix, spread, slice and serve with this one tool.
By entering this giveaway, you agree to the giveaway rules.