Registry FAQ
Learn more about Cutco wedding and gift registries.
Can my guests view my registry online?
Yes, friends and family may view your registry anytime. Unless made private, all registries will also be visible in searches.
Does my registry show purchases?
Yes, Cutco will update your registry with items purchased online, through your registry, immediately.
How soon will I receive my gifts?
If your guest chose to ship items to you, you will receive your gift within two to four weeks, unless express shipping is chosen by the purchaser.
What is your return policy?
Under The Forever Guarantee, if within 15 days of receiving your gifts you are not completely satisfied, you may exchange gifts or return gifts for a complete refund. Engraved or monogrammed products cannot be returned.
What if I receive duplicate gifts?
If you receive duplicate gifts, you may exchange the items under The Forever Guarantee within 15 days of receiving your gifts. Call 1-800-828-0448 for more details.
How long will my registry be available after my event?
Registries will expire one year after your event date. Then it will no longer be presented in search results. If you need access to it after that date, you may call us at 1-800-828-0448.
Will my personal information (address, telephone numbers, ship-to address, etc.) be accessible to friends and family or displayed on the website?
No. Only your name, event type and event date will be displayed. All addresses are secured in our system and gifts will automatically be shipped to the address you provide.
Is the Cutco registry available internationally?
At this time, only customers in the United States and Canada may register or purchase gifts.
How do I update my registry details?
To make changes to your personal information, including shipping addresses, names and event dates:
Sign in to "My Cutco"
Select "Registries"
Select "Manage Registry" for the registry you would like to update.
Select "Edit Registry Details". On the following page, update any information and choose "Update Registry"
Why can't I add certain items to my registry?
On occasion, there may be items on our website that cannot be added to your registry. There are many reasons for this, including that it is a temporary promotional item, is soon to be discontinued, or that it is only available through your Cutco Sales Representative.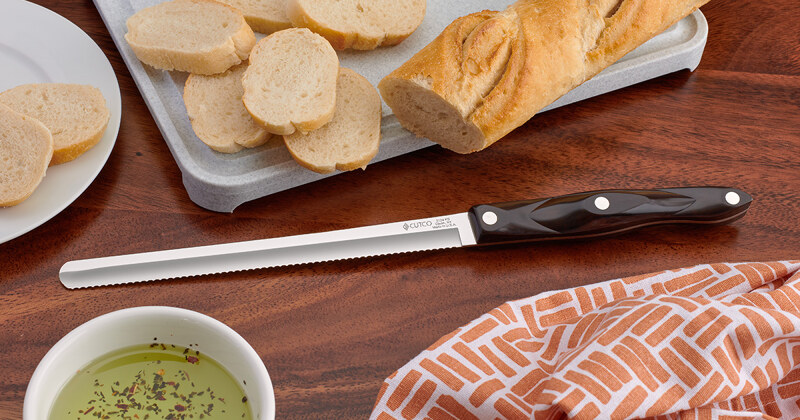 Win a 7-3/4" Petite Slicer
Enter to win a 7-3/4" Petite Slicer. It is a bread knife, but so much more. Use it to slice boneless ham, shred lettuce and slice eggplant.
By entering this giveaway, you agree to the giveaway rules.