CAREER OPPORTUNITIES - SKILLS FOR LIFE STORIES
Pat Huttenbach, attorney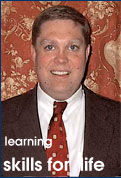 Attorney Pat Huttenbach said it's his experience as a Vector representative that has given him an added advantage when working on civil suits for his clients.
"I've won a lot of cases because of my CUTCO skills. (Selling) CUTCO taught me how to listen to the real needs of others and deal with people effectively. They don't teach you that in law school," he said.
Pat said that the Vector experience was "instrumental" in developing communication, listening and time-management skills. He also learned to market himself and a product. "All of these skills are essential to a successful law practice."
He began selling CUTCO in 1989 while at Rice University. He started slowly but eventually became a top branch manager and a successful district manager.
Selling CUTCO also had financial benefits for Pat. He was one of the top sales people in the country, breaking national sales records in March and May 1994, something he is still proud of today. When he entered law school in 1994 he stopped working as a manager but remained a sales rep to help pay for school and became the number two rep in the country.
So, how did he manage school and work?
"I liked being my own boss and managing my own time and it (Vector) gave me the flexibility to meet the demands of law school," he said. "If I had to study, I would not set up any appointments. I could resume selling when it fit my schedule. I can think of no other job that would allow me such flexible hours." In fact, once he began practicing law full-time he still found time to service some of his old customers.
Pat said his parents also saw the benefits selling CUTCO offered. In fact, they encouraged Pat's younger sister to sell CUTCO and she successfully took over her brother's business.
From mediations to the courtroom, Pat is still winning cases because he's able to rely on what he learned during his CUTCO experience.
"Deciding to sell CUTCO was one of the best decisions I ever made."