Cutco Offers Career Opportunities Through Vector Marketing
Become a sales representative for
Vector Marketing Corporation.
At Vector Marketing we sell Cutco
and have fun doing it.
Great
Pay
Security with a guaranteed base pay. Opportunity for more through incentives.
Flexible Schedules
Part time or full time. You set your schedule day-by-day.
Personal Growth
You'll challenge yourself and stretch your limits. Guaranteed.
No Experience Needed
No experience? No problem. We'll teach you all you need to know.
Great Training
Learn how to set goals, manage time and communicate with skill.
Quality Products
Promote and sell a premium product. One you can believe in.
How It Works
We sell Cutco and have an absolute blast doing it.
As a Vector Marketing sales representative, you will have the option to meet one-on-one with potential customers either in-person or virtually through our virtual demo. During the demo, you will have the skills to demonstrate the quality of Cutco and help customers find the perfect set that fits their needs.
Since our reps are independent contractors, enjoy real flexibility and control over your own schedule. A little busy? No problem! Schedule your appointments based on your availability day-by-day.
As a Vector Marketing sales rep you'll pride yourself in providing ridiculously awesome customer service and enjoy representing a truly incredible (and useful) product. Ther's no need to be pushy or pressure clients into purchasing Cutco products because Vector reps earn a guaranteed base pay for every appointment completed.
And, it works. Cutco has been purchased by more than 16 million satisfied customers and we stand by the quality of our products.
This is an incredible opportunity for professionals to learn and develop vital skills while also getting paid.
Got questions? We've got the answers.
Many sales reps work part-time during the school year and full time during the summer or winter break, but whenever you're able to work, we'll provide you with the training and support you need.
Every year, we give away $40,000 to full time undergraduate students who excel at selling Cutco.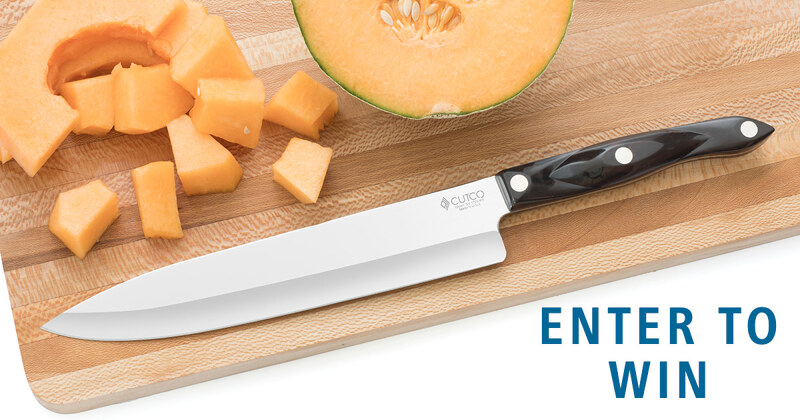 Enter to Win a 9-1/4" French Chef w/ Sheath
Enter for a chance to win a 9-1/4" French Chef with Sheath. It is the one knife every cook needs for chopping, dicing and mincing.
By entering this giveaway, you agree to the giveaway rules.