1949

Cutco begins manufacturing in Olean, New York
1952

The ergonomically-designed "hand-perfect" Wedge-Lock handle is added to Cutco cutlery, ensuring a comfortable grip
1960

The exclusive Double-D® stay-sharp recessed edge is added to several Cutco items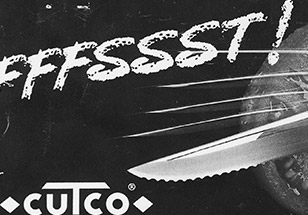 Ad circa 1960
1972

ALCOA purchases Case Cutlery's share of Alcas. Alcas becomes wholly-owned by ALCOA. An improved Universal Wedge-Lock handle is added to Cutco products
1982

Alcas management team purchases the company from ALCOA in a management buyout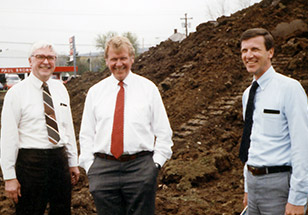 1985

Alcas acquires Vector Marketing Corp. establishing it as Alcas' wholly-owned Cutco marketing subsidiary in the U.S.
1990

Vector Marketing expands into Canada
2001

Cutco opens a Visitors Center next to its corporate headquarters
2005

Cutco opens its first brick-and-mortar retail store in Erie, Pennsylvania
2009

The Alcas Corporation name is changed to Cutco Corporation as the company marks its 60th anniversary
2019

Cutco celebrates its 70th anniversary
Cutco was created as product for Wear-Ever Aluminum, which at the time was a division of ALCOA. The company evolved from there, eventually adding its signature Wedge-Lock handle and placing the Double-D® recessed edge on some of its knives. Two things that have never changed are its commitment to fine craftsmanship and The Forever Guarantee.
The company as it exists today was formed in 1982 following a management buyout that took the company private. It was a leap of faith for the management team that bought the company, but it was that moment that secured Cutco's future for generations to come.
The name Cutco comes from the name of a company once owned by Alcoa, Cooking UTensil COmpany.

Charitable Giving
Giving back is ingrained in Cutco's culture. The Corporate Mission Statement makes a point of calling out a commitment to social responsibility and making a positive difference.
With a focus on health, education, and community-based charities, Cutco Corporation and its subsidiaries hope to make our communities a better place to live and work.
Charitable support has included hospitals, hunger causes, colleges and universities, academic programs, primary education programs and disaster relief.
CUTCO/KA-BAR Visitors Center
Discover the rich heritage of Cutco cutlery and KA-BAR Knives, which spans generations. Learn how Cutco knives are made in Olean, New York – where tradition and state-of-the-art technology come together to make knives that are built to last and are backed by The Forever Guarantee. Displays include story boards, antique kitchen cutlery, military knives and pocket knives. See historical photographs and documents.
Cutco and KA-BAR products may be purchased at the Center and you can also leave your Cutco products for factory sharpening.
1040 East State Street
Olean, NY 14760
(716)790-7000
Hours:
Monday through Friday from 12 p.m. – 5 p.m.
Saturday 10 a.m. – 4 p.m.