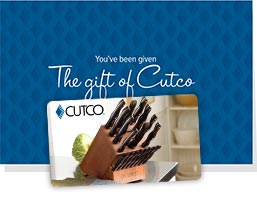 The CUTCO Gift Card
Redeem Your Gift Card
2
Shop Online


If your card has a balance.
3
Pay with your gift card
CUTCO Gift Card Help
How do I shop online?
You can shop online by entering your gift card number above. If your gift card has a balance, click Shop Now to access an exclusive online shopping site.
How do I use my gift card for payment?
During checkout, on the "Payments" screen, you will be provided an option to apply your gift card balance. If the total exceeds the gift card balance, you may use your credit card for the remaining amount.
You will find your gift card number on the back of your card.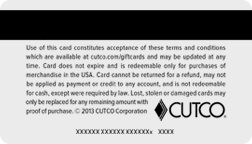 Can I use multiple gift cards?
Yes. Multiple cards can be applied to your order during checkout.
Can I use payment plans if I'm paying with a gift card?
In some circumstances you can. On qualifying orders over $200 your entire gift card amount will be used to reduce the order total. The balance will be split into equal payments and a credit card is required to make the first payment at the time of purchase.
Where can I purchase gift cards?
Gift cards can be purchased through a Vector Sales Representative or call 1800-633-8323. If you are a CUTCO customer without an active sales representative, you may purchase a gift card online.
Can I redeem gift cards with my rep?
No. Gift cards can only be redeemed online or by calling 1-800-633-8323.
Can I redeem gift cards over the phone?
Yes. Please call 800-633-8323.
Can I redeem gift cards in a CUTCO retail location?
No. Only CUTCO Stores/CUTCO Kitchen gift cards can be redeemed in store.
CUTCO Gift Card Terms & Conditions
The use of CUTCO Gift Cards constitutes the acceptance of the following terms & conditions, which may be updated at any time:

1. CUTCO Gift Cards do not expire and are redeemable only for purchases of merchandise in the USA at Cutco.com/giftcards.
2. CUTCO Gift Cards cannot be returned for a refund.
3. CUTCO Gift Cards may only be used for new purchases and may not be applied as payment or credit for previously existing orders or account balances.
4. CUTCO Gift Cards are not redeemable for cash, except where required by law.
5. Lost, stolen, or damaged CUTCO Gift Cards may only be replaced for any remaining amount with proof of purchase.